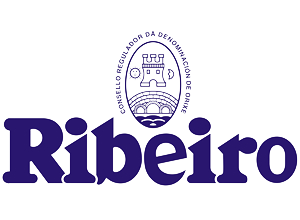 The Denomination of Origin Ribeiro is the oldest in Galicia. The history of the growing of Ribeiro wine dates back to the 2nd century BC. The Romans when they passed through these lands set on the table of the roman emperors the wines of O Ribeiro. The regulating council was created in 1956.
In Galician Ribeiro means "river bank" and it is located along the river Miño and tributaries. The production zone is located in Galicia's southern part, on the north-western border of the province of Ourense, where the valleys formed by the rivers Miño, Avia, Arnoia and Barbantiño come together.
The area's peculiar climate is favoured by the natural barriers and its southern location in Galicia that protect the territory from sub-Atlantic low pressures and create an eco-climate.
The Ribeiro is a complex multivarietal wine that for centuries has been Galicia's champion that perfectly combines with Galician cuisine both in its traditional as in its new international styles. It is a wine with fruity and floral bouquets that pleases the palate and the senses. The Ribeiro wines stand out because of their diversity and the variety of its grape: white (Godello, Albariño, Palomino, Albilla…) and red (Sousón, Mencía, Tempranillo…)